Source Level Debugging with Intel(R) SVT CCA
Intel(R) Trace Hub
The Intel(R) Trace Hub (Intel(R) TH) hardware is a set of functional blocks with the ability to perform full system debugging. The Intel Trace Hub is composed of trace sources, a global hub, trace destinations, and a trigger unit.
Trace sources include internal hardware signals, performance data from the SoC Hardware, and software/firmware trace and debug data from the Software Trace Hub.

Trace destinations include system memory, a MIPI* PTI port, and USB.

The Global Trace Hub routes the data from the trace sources to the trace destinations according to the user's configuration (via software).

Trigger Unit controls the starting and stopping of tracing operations.
The Intel(R) Trace Hub is designed and aligned with industry-standard debug methods and tools.
Intel(R) Direct Connect Interface (DCI) technology
Debug using functional connections available in the complete, closed, form-factor system is referred to as Closed Chassis Debug. Intel(R) Direct Connect Interface (DCI) technology provides Closed Chassis Debug capabilities by forwarding trace data coming from the Intel(R) Trace Hub to a DCI transport (a physical USB receptacle).
The DCI technology is available either in-band or out-of-band to the USB interface.
The out-of-band, referred to as DCI OOB, is independent of the USB protocol and simply uses the pins of the USB receptacle and bypasses the USB controller. Since it does not use the USB protocol, an external adapter is required to communicate with the test system.

The in-band, referred to as USB Debug Class, uses the USB protocol to communicate with a debug endpoint in the USB controller. Both communicate with various different debug agents in the SoC to perform debug communication, run control, DMA, and trace.
Intel(R) SVT CCA
Intel® Silicon View Technology Closed Chassis Adapter (also known as SVTCCA) is used to transmit the out-of-band protocol for DCI OOB and provides access to DFx-features, like JTAG and Run-control, through USB3 port(s) on Intel® Direct Connect Interface (DCI) enabled silicon and platforms. The tool enables closed-chassis use-cases where USB3-hosted DCI is limited, intermittent, or unavailable.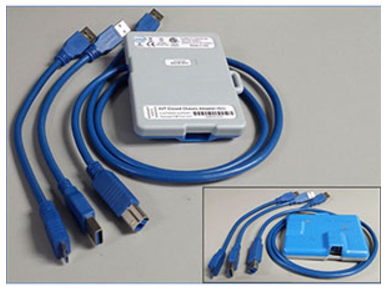 Intel(R) System Debugger
Intel(R) System Studio is a cross-platform tool suite and includes Intel(R) System Debugger that provides System Debug and System Trace capabilities.
The Eclipse* integrated source-line debugger enables deep analysis of Slim Bootloader code and System-on-chip (SoC) peripheral registers while the System Trace capabilities provides the ability to capture, decode, and display traces from hardware, firmware, and software sources via Intel® Trace Hub.
https://software.intel.com/content/www/us/en/develop/tools/system-studio/debug.html
Debug Environmment Setup
Setting up a debug using Intel(R) SVTCCA involves several steps including target side cnfiguration, physical connection of Intel(R) SVTCCA hardware and host side Intel(R) System Debugger setup.
Platform based on 10th Generation Intel® Core™ desktop processors and chipsets formerly known as Comet Lake with a 22nm Platform Controller Hub (PCH) is used as example here.